2015 Spring Volleyball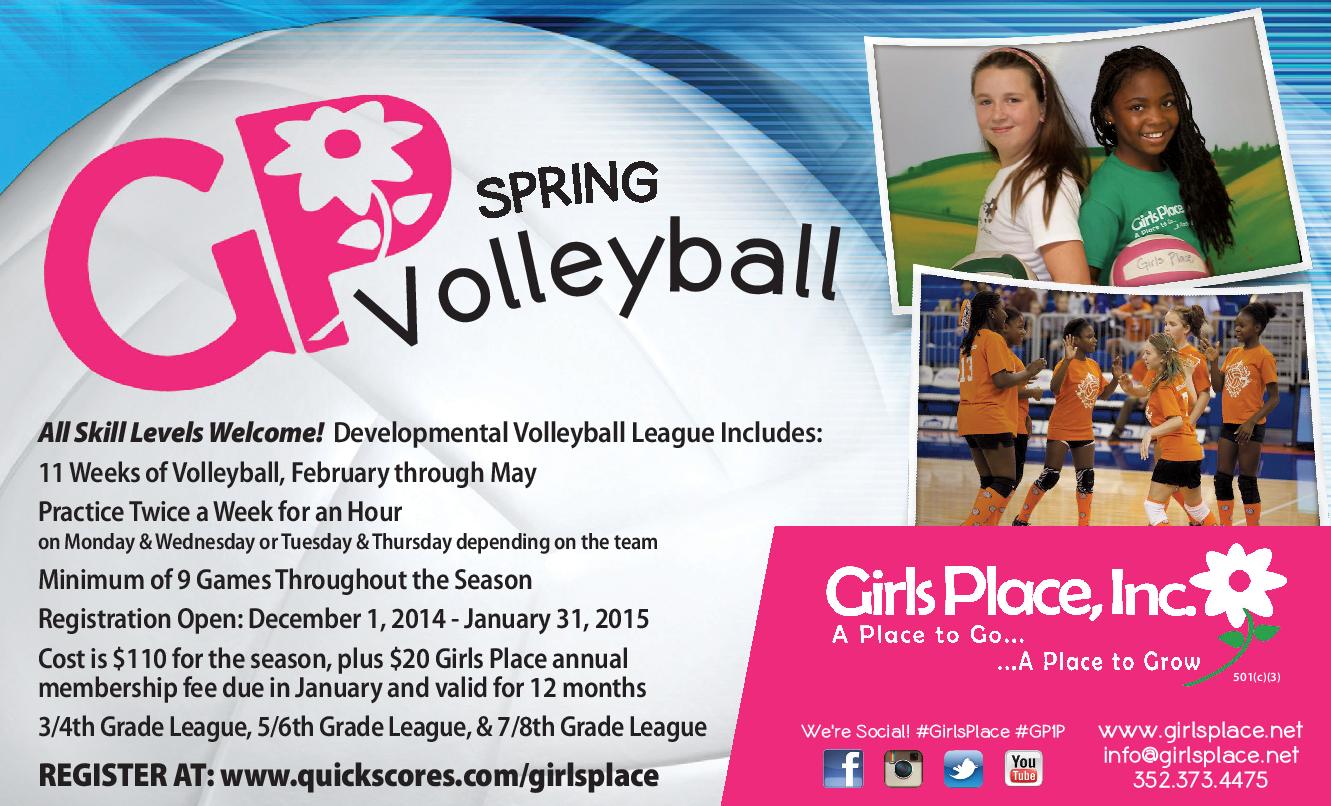 General Information
Registration: Registration for Spring Volleyball is now Closed.
Other important things to note:
-Practices will be one hour sessions this season with two practices a week.
-Teams will have rosters of no more than 10 players.
Coaches: If you are interested in coaching a volleyball team, please contact Tara Mercurio at Tara@girlsplace.net.  Please read here for more information on coaching!
Barter Scholarship Opportunities: If you are interested in volunteering your time in exchange for the volleyball fee, please contact Tara Mercurio directly at tara@girlsplace.net.  Bartering Scholarships are limited and certain restrictions apply. 

Cost: The cost is $110 for the season.  Additionally, there's a $20 Girls Place annual membership fee that's due each January and valid for 12 months.

Parents: The parent presentation will take place on your child's evaluation day and is MANDATORY for all new players and strongly recommended for returning players. This presentation goes over the rules, regulations and conduct expected during the volleyball season. You will be responsible for the content of the presentation even if you were unable to attend in person. If you are unable to attend, please consider sending a family representative to receive this important information.
Practices: The girls will practice two days a week on either a Monday/Wednesday or Tuesday/Thursday for approximately one hour. Please note that requests for specific practice days will be considered, but realize that not every request can be accommodated.
Games: The game schedule will be released February 27th.  You can find a copy of the full schedule on the Quickscores Website! If you would like to download the schedule into your Outlook/Gmail/iCal, please click here for a handy, step by step guide!
Volunteering: Want to help with $1 donation, concession, refereeing or the score table on game weekends? Contact Tara for more information!
Sponsorships and donations are vital to the volleyball program. If you are interested in sponsoring a team or the volleyball program, please contact Ms. Tara via e-mail (Tara@girlsplace.net) for more information.
Important Spring Volleyball Dates 
Please refer to the dates found on our website as the final dates of the volleyball season.  **Dates are subject to change**
| | |
| --- | --- |
| Event | Dates |
| Spring Volleyball Registration Opens | December 1st |
| Spring Volleyball Registration Closes | January 31st |
| Full Payment or Bartering Contract Due* | January 31st |
| Skill Development Clinic | February 10th |
| Evaluations | February 11th, 12th |
| Teams Announced via Email | February 18th |
| Practice Begins | February 23rd |
| Game Schedule Released | February 27th |
| Exhibition Games | March 6th and 7th |
| Games Begin | March 13th |
| Picture Days | April 10th-11th |
| Championship Week | May 11th-16th |