Summer Day Camp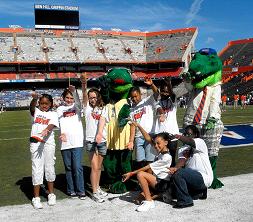 OVERVIEW:
Girls Place Summer Day Camp operates Monday-Friday from June 8-August 21. The objective of the Girls Place summer day camp is to involve girls in safe and fun summer activities. We provide countless activities based on the components of wellness: physical, emotional, spiritual, environmental, intellectual and social. This curriculum allows Girls Place to provide a well rounded experience for the girls. Participants do not have to commit to the entire summer; they may participate anywhere from one-ten weeks, but you are required to pay in advance. For more information, please download our Summer parent guide.
FEES:
First week of fees, membership and summer registration fees are all due by Friday, May 22. Subsequent weekly fees are due the Friday before the week your child is attending. 
Registration Fee: $25 per family (due immediately with registration; nonrefundable and nontransferable). Your child's space is not reserved until this payment is made.
Membership Fee: $20 for one child; $40 for 2 or more children in the family (due by June 1; nonrefundable and nontransferable). Participants are required to be members of Girls Place. This fee is charged once per calendar year. If your child has been charged this fee for participation in another program, you will not need to pay it again until January 2016.
Weekly fees: $75 for the first child and $65 for each sibling (cousins and other family members do not qualify). Fees must be paid by online by 5:00 pm or in person (cash, check, credit card or money order) at Girls Place by 6:00 pm.
FINANCIAL ASSISTANCE:
We are grateful to the Central Florida Community Action Agency (CFCAA) for their support of our financial assistance program. CFCAA is a private, nonprofit, community-based organization whose purpose is to reduce poverty and help low-income individuals and families become self-sufficient in Alachua, Levy, and Marion Counties. They are providing direct assistance to families who qualify. Please contact Christi@girlsplace.net with any questions.
We are also grateful for the support of United Way of North Central Florida through our ACHIEVE Program.
Girls Place is an Early Learning (ELC) provider. Families who qualify for ELC are often given rates well below what we can offer with our assistance program . Please contact ELC for more information.
Phone: 352-375-4110 Email: info@elcalachua.org
Families on ELC are required to pay the registration fee and the membership fee.
REFUNDS:
The registration and membership fees are nonrefundable and nontransferable. Refunds for specific summer weeks will not be granted after the week has begun. Refunds may be granted as late as the Friday (by 2:oo pm) prior to the week starting with the completion of a withdrawal form and will include an administrative fee of $10.
Need to withdraw your child from a week or the program? Click the button below.
Remove my child
HOURS OF OPERATION:
Early drop off – 7:00 am – 7:29 am (additional fee of $1 per child per day; due in cash upon arrival each morning)
Normal operating hours – 7:30 am – 6:00 pm
Office hours – 11:00 am – 6:00 pm
STRUCTURE:
Girls ages 5-18 can participate in camp. Girls are divided into groups based on the grade they are entering in the upcoming school year: K-1st (Pink), 2nd-3rd (Red), 4th-5th (Yellow), 6th-7th (Green), 8th-12th (Blue). Each group has designated classroom space that they report to in the mornings.
DROP OFF:
Our front desk is staffed each morning and the girls will be assigned a number that will allow us to check them in. The parent must sign their child in each morning. Girls report to their classrooms after check in. Parents are asked to drop their children off at the front desk rather than walking them to their classrooms to avoid congestion and distracting counselors.
ACTIVITIES:
One of the best things about Summer Day Camp at Girls Place are the activities our girls are involved in! On a typical day, girls will participate in supervised free play time from 7:30am-9:00am. They will then begin the scheduled activities for the day. Typically, our girls go on field trips at least two-three times per week.
Activities can include but are not limited to: swimming at springs and local pools, movies, nature trails, tours of local businesses, museums, libraries, botanical gardens, parks, guest speakers, and community service activities.
Parents will receive a schedule of the field trips each week. The field trip schedule varies each week, but includes swimming at NE Pool every Monday from 10:00-12:00.
Outside of field trips, counselors schedule activities at our facility during the day. In their specific age groups, our girls engage in social, learning and just plain fun activities. In a warm and caring atmosphere, girls are able to explore their world and learn from and with each other.
MEAL PROGRAM:
Girls Place has applied for summer meal program offered through the Kids Cafe. We will receive notification by May if we will qualify for the 5th year in a row. If so, breakfast and lunch will be available to all girls attending our program. A menu will be available for each week. Girls are welcome to bring their own meals if they prefer. Breakfast will be served between 8:45 and 9:15. Lunch will be served between 11:30 and 12:30.
Girls Place DOES NOT provide snack. We open our concession stand each afternoon at approximately 3:30 pm. Parents may opt to send snack items as well. Items will vary in the concession stand, but may include juice, Gatorade, water, fruit snacks, chips,  and trail mix. Items range from $0.25-$1.50
Concession Accounts: We prefer that a concession account is established to avoid any issues with missing money. An account can be set up in our front office and parents can set daily spending limitations if desired. We cannot be responsible for lost or stolen money, so this is the preferred option for girls who wish to purchase snacks.
PICK-UP:
When it is time for your child to go home, we want to make sure that she is safe! A receptionist will be sitting at the front desk and will call your child over the intercom. If the receptionist is not on duty, please report to the front office. Note: you will be charged a late fee if your child is not picked up by 6:00pm.
For more information about Summer Day Camp, please email Christi at: Christi@GirlsPlace.net. Once the summer begins, please contact the front office for an immediate response (352) 373-4475.