Give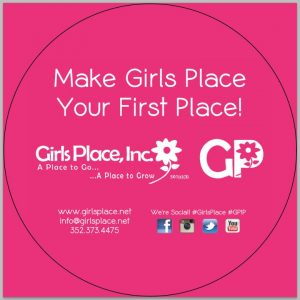 Use the PayPal button below to donate to Girls Place!
Support Girls Place!
How far can my gift go?
For $100 a month… you make it possible for a girl to attend Girls Place for an entire year
For $50 a month… you make it possible for our summer campers to take an exciting and educational field trip
For $25 a month…you make it possible for 3 girls to play a sport at Girls Place.
Tweet at us (@GirlsPlaceInc) with our hashtag (#gp1p) to let people know that you made Girls Place your First Place!
Instructions for monthly giving: Fill out the amount you wish your recurring donation to be in the box below. Then, click "Subscribe". This will take you to PayPal to finish the rest of your donation process! Once you are in PayPal, you will create an account and then choose your method of payment (bank draft is an option). If you have any questions about making a recurring donation, please contact us.
_____________________________________________________________________
Girls Place, Inc strives to empower girls of all racial, religious and economic backgrounds to G.R.O.W. confident, strong, and independent in order to thrive in the world around them. We accomplish this mission by providing girls grades K-12 with a safe, nurturing environment after school and during summer break. We also provide our girls with the opportunity to participate in team sports.
Our organization currently has a number of needs including general operating funds, scholarship funding, and in-kind gifts, click here to see our wishlist. To find out more about supporting Girls Place, please contact (352) 373-GIRL (4475) or info@GirlsPlace.net.
Our Address:
Girls Place, Inc.
2101 NW 39th Avenue
Gainesville, FL 32605
A copy of the official registration and financial information may be obtained from the Division of Consumer Services by calling toll-free (1-800-435-7352) within the state. Registration does not imply endorsement, approval, or recommendation by the state. Charitable Organization Registration Number: CH21.